Polish Chamber of Tourism
Updated: 27.05.2022
Published: 01.04.2022
Institution
Contact: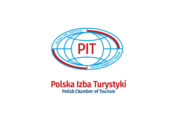 Polish Chamber of Tourism
Marszałkowska 9/15 unit 29 00-626 Warsaw
Polish Chamber of Tourism is the largest organisation founded by the tourism industry and operating all over the country. Our accomplishments during over 25 years of activity had strong impact on the way this business runs nowadays. The Chamber's role became extremely important after Poland joined the European Union. Since May 2004 the Chamber is the full-fledged member of ECTAA.
Being supported by Poland's largest tour operators and travel agencies, we not only act actively for the sake of further tourism industry development, but also take good care of the already existing business. The organisation's structure, based on local representative offices situated in the main tourist locations like Białystok, Bydgoszcz, Katowice, Łódź, Olsztyn, Poznań, Gdańsk, Warszawa, Kraków, Szczecin and Wrocław, is of vital importance. The Chamber has c.a. 500 members with about 1000 offices spread through the country and representing ca. 70% of floating capital in Polish tourism.
Areas of export support
Representing members and the tourism business, develop the tourism industry, its competitiveness on foreign markets, access to new technologies and setting business standards among our members
Cooperating with many governmental institutions, linked with the tourism industry, like the Ministry of Economy, the Ministry of Finance, the Foreign Affairs Ministry, the Sports and Tourism Ministry, Border Guards as well as the Polish Chamber of Commerce, where the Polish Chamber of Tourism is an active member
Building the awareness of the importance of tourism business among the members of Parliament Commissions and forming strong cooperation with Polish Tourism Organization, Tourism, Hotel and Gastronomic Organization Board, Board of Regional Chambers of Tourism (where PIT is a presiding member since 2006) as well as Regional Chambers of Tourism
Fighting for adapting the Polish law regulations to the European policies
Protecting Polish travel agencies against the competition of foreign tour operators, entering the local market