The Polish Union of Innovative Medical Biotech Companies BioInMed
Updated: 26.05.2022
Published: 01.04.2022
Institution
Contact: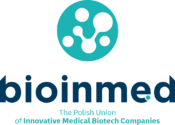 The Polish Union of Innovative Medical Biotech Companies BioInMed
Plac Unii, ul. Puławska 2 bud. B piętro 3 02-566 Warszawa
The Polish Union of Innovative Medical Biotech Companies BioInMed was created to build ecosystem, in cooperation with stakeholders and public administration, that would allow the biotech medicine industry to become an ambassador of the polish innovation, and a driving force of the polish economy in the future.
Areas of export support
The fundamental aim of the Association is to secure the rights and represent interests of the membership companies in Poland and abroad
To enlarge innovation of polish economy through a promotion of investments in the biotech medicine, and a popularization of the solutions that support a development of the industry
Dialog with decidents and others shareholders
To initiate projects that support activities of members of the Association
To educate in the field of the innovation in the biotech medicine industry
Portal Promocji Eksportu używa plików cookies, aby ułatwić użytkownikom korzystanie z serwisu oraz do celów statystycznych. Jeśli nie blokujesz tych plików, to zgadzasz się na ich użycie oraz zapisanie w pamięci Twojego komputera lub innego urządzenia. Pamiętaj, że możesz samodzielnie zmienić ustawienia przeglądarki tak, aby zablokować zapisywanie plików cookies. Więcej informacji znajdziesz w Polityce Prywatności i Regulaminie.