TECHNOMED
Updated: 07.06.2022
Published: 01.04.2022
Institution
Contact: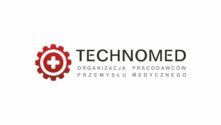 TECHNOMED
ul. Stefana Czarnieckiego 21/23; 01-548 Warszawa
We are an organization of entrepreneurs operating in the health care sector. Our members are manufacturers and distributors of medical devices, as well as entrepreneurs providing services to entities performing medical activities.
Areas of export support
Our primary goal is to represent the interests of our members, as well as to create a friendly climate for the development of the medical industry and the entire Polish economy. By acting on behalf of good legislation, reducing operating costs of member companies (through joint purchases of goods and services), or working to create a sector program, which will allow to finance research and development of companies – members of the Organization – with government subsidies, we wish to achieve our goals.
By joining our organization, each entrepreneur has a unique opportunity to accelerate the development of their business, gain free support of a law firm, assistance in specific tax problems and increase their prestige in the business environment.
Portal Promocji Eksportu używa plików cookies, aby ułatwić użytkownikom korzystanie z serwisu oraz do celów statystycznych. Jeśli nie blokujesz tych plików, to zgadzasz się na ich użycie oraz zapisanie w pamięci Twojego komputera lub innego urządzenia. Pamiętaj, że możesz samodzielnie zmienić ustawienia przeglądarki tak, aby zablokować zapisywanie plików cookies. Więcej informacji znajdziesz w Polityce Prywatności i Regulaminie.