Article
The Regional Trade Office in Wroclaw opened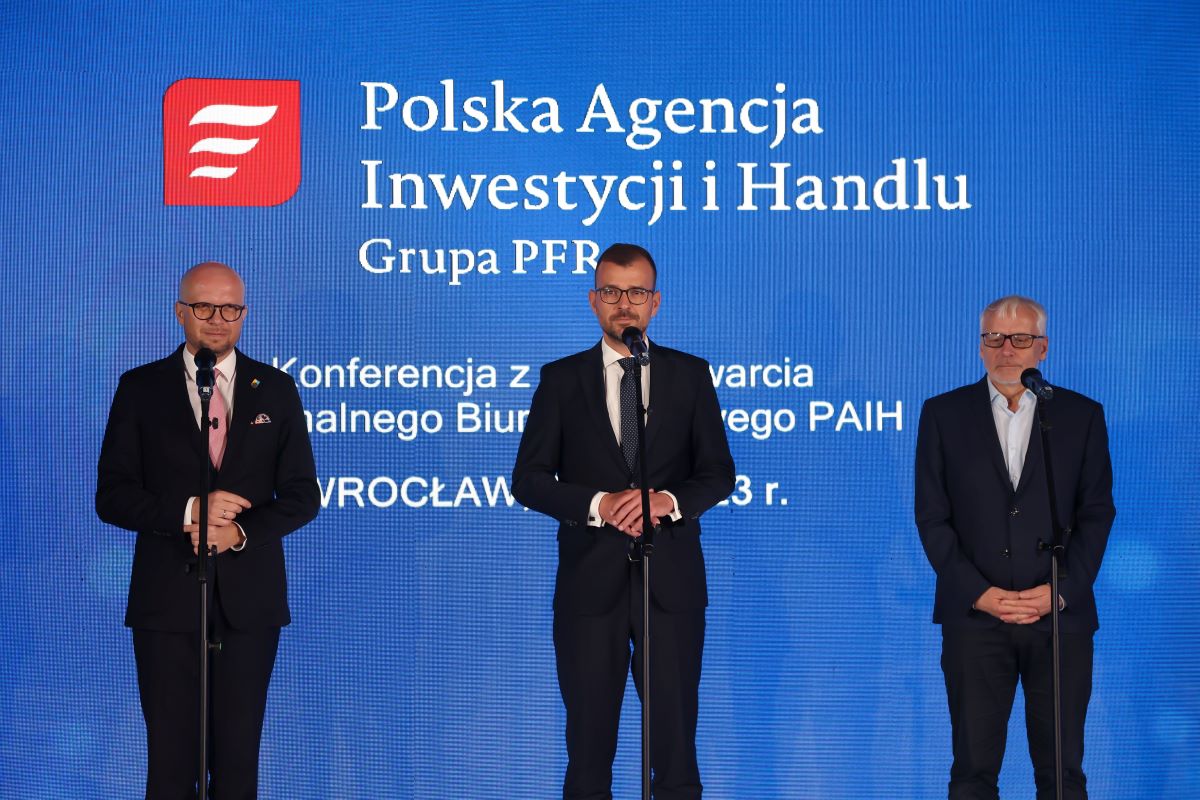 The Polish Investment and Trade Agency has launched another of the announced twelve Regional Trade Offices. PAIH's Wrocław branch was opened by Piotr Dytko, a member of the Agency's management board, together with Lower Silesian Local Government officials. The office will support companies from Lower Silesia in international business contacts.
The Regional Trade Offices established by PAIH are a response to the needs of Polish companies, which were identified through contacts with them. PAIH's branches in individual regions of the country are established in cooperation with the PFR Group entities and Special Economic Zones. The conference opening the Agency's Wrocław office was attended by representatives of Local Government, partner institutions and numerous entrepreneurs from Lower Silesia.
Entrepreneurs are still not fully aware of what our support offers are avilable, what the Polish Investment and Trade Agency offers and in what areas we are able to support them. Hence the idea of establishing Regional Trade Offices. For us it is very important to be and act in the region. Especially here, in Wrocław and Lower Silesia, where there are many dynamically developing companies, where only in the past decade the investment capital amounted to EUR 11 billion. The region is appreciated by foreign investors, such as Intel, which is why it is so very important that PAIH should open its office in the heart of Lower Silesia

– says Piotr Dytko, Member of PAIH's Management Board
The Deputy Mayor of Wrocław Jakub Mazur emphasized the economic potential of the Wrocław agglomeration and the Lower Silesian Voivodeship. In his speech, he appreciated the importance of PAIH's Foreign Trade Offices and for the Agency's support for entrepreneurs so far. At the same time, he encouraged them to use all the available tools to facilitate their operation.
We celebrate the future of Wrocław and our entire agglomeration. We know very well how important entrepreneurship and economic development are, because social development also comes with it. In Wrocław, for years, we have been focusing on a strong economy and attracting large "players" in a coherent and sustainable way. We know that in recent years this has paid off. A large number of potential investors and entrepreneurs operating in Wrocław and the queue waiting for the opportunity to locate their production and service investments are constantly growing

– said Jakub Mazur, Deputy Mayor of Wrocław, present at the conference.
The Voivode of Lower Silesia, Jarosław Obremski, also took the floor, reminding that every business reaches the moment of necessity of internationalization and then needs support. He pointed to the PAIH Regional Trade Office as a key point for the effective implementation of business internationalization.
In Lower Silesia, more and more people are thinking about further development, i.e. activities not only on the scale of the Province, but also of the whole country. We have the strongest companies in their fields in Central and Eastern Europe, our enterprises are leaders in the IT industry, and the products of these high-tech companies are selected – from among many – by numerous space agencies

– added the Voivode of Lower Silesia Jarosław Obremski.
During the conference, PAIH's experts presented the Agency's activities in the areas of export, investment and promotion of the Polish economy's brand, including world exhibitions. As part of the event, there were also panels with the participation of experts and local entrepreneurs on advising companies, their needs and challenges.
The event was attended by a group of PAIH's experts, with whom entrepreneurs present at the conference could talk live about the possibilities of cooperation and learn in detail about the Agency's activities.
Portal Promocji Eksportu używa plików cookies, aby ułatwić użytkownikom korzystanie z serwisu oraz do celów statystycznych. Jeśli nie blokujesz tych plików, to zgadzasz się na ich użycie oraz zapisanie w pamięci Twojego komputera lub innego urządzenia. Pamiętaj, że możesz samodzielnie zmienić ustawienia przeglądarki tak, aby zablokować zapisywanie plików cookies. Więcej informacji znajdziesz w Polityce Prywatności i Regulaminie.