Event
Polish-German Business Soirée
20.11.2023
Registration completed
17.11.2023 – 04.12.2023
Germany and Poland are among the most attractive investment locations in Europe, and in 2022, Poland further solidified its position as Germany's fifth-largest trading partner. Particularly in the emerging fintech sector, which is revolutionizing the financial industry. The Polish fintech sector currently holds the top spot in Europe and has the potential to become a global leader. We invite you to discuss the future of the fintech industry and the directions of its development in Poland and Germany.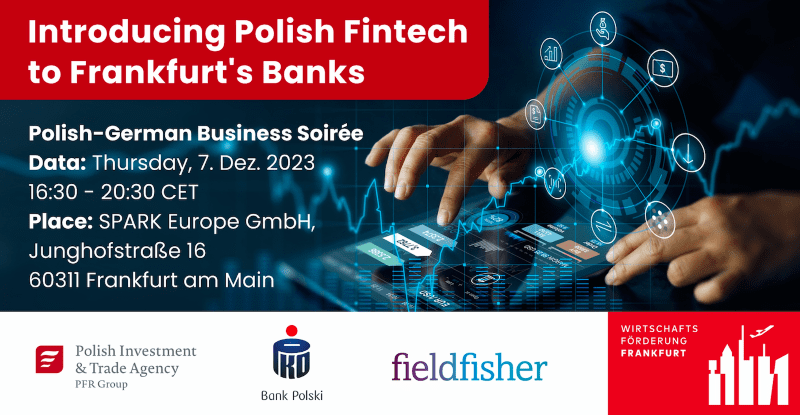 PROGRAM
Moderation: Johannes Schäfer, Economic Development Frankfurt
4:30 PM
Welcoming Guests
5:00 PM
Welcoming speech
Ansgar Roese, Managing Director, Economic Development Frankfurt
Łukasz Chrabański, Head of Polish Investment and Trade Agency in Frankfurt am Main
Dr. Paweł Widawski, President, Fintech Poland
5:10 PM
Impulse Speeches
"Where is Polish Fintech today?"
Jacek Stryczyński, Director of Innovation Projects, PKO Bank Polski S.A.
Beata Mitukiewicz, Branch General Manager, PKO Bank Polski S.A., German Branch
"Key trends in Frankfurt's finance industry"
Andreas Glänzel, Managing Director, Frankfurt Main Finance e.V.
5:30 PM
Introductions of Polish Fintechs
Dr. Paweł Widawski, President, Fintech Poland
5:45 PM
Expert Panel
"Can European Fintech prevail in the global competition?"
Nicolai Bastian, Investment Manager, neosfer GmbH
Andreas Glänzel, Managing Director, Frankfurt Main Finance e.V.
Dr. Rüdiger Litten, Partner, Fieldfisher
Jacek Stryczyński, Director of Innovation Projects, PKO Bank Polski S.A.
Dr. Paweł Widawski, President, Fintech Poland
6:15 PM
Presentation of Polish Fintechs
Dr. Paweł Widawski, President, Fintech Poland
From 6:30 PM
Networking and Get-together
8:30 PM End of the event
The Export Promotion Portal uses cookies to make it easier for users to use the website and for statistical purposes. If you do not block these files, you agree to their use and saving in the memory of your computer or other device. Remember that you can change your browser settings to block the storage of cookies. More information can be found in Privacy Policy and Terms and conditions.