Fruit and Vegetable Industry Fair TSW 2023
Updated: 16.01.2023
Published: 02.06.2022
Event
Registration completed
10.01.2023 – 17.01.2023
Between 18th and 19th of January 2023 the fruit and vegetable sectors fair trade will be held.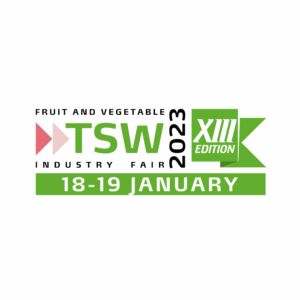 TSW is a place where you can meet other professionals from horticultural industry. It is visited by: producers of fruit and vegetables, horticultural machinery, crop protection products, fertilisers, means of production, as well as service providers, refrigeration and storage companies and companies providing machinery for fruit and vegetables sorting and packaging. We also host nursery producers, fruit dealers and fruit processing companies.
Both exhibitors and visitors are invited to attend conferences with more than 50 lectures. Our speakers are Polish and foreign experts, scientists and practitioners who will share their knowledge and experience. Conference attendance is free of charge.
For more information check the official site of the event.
No search results. Please try again.
Portal Promocji Eksportu używa plików cookies, aby ułatwić użytkownikom korzystanie z serwisu oraz do celów statystycznych. Jeśli nie blokujesz tych plików, to zgadzasz się na ich użycie oraz zapisanie w pamięci Twojego komputera lub innego urządzenia. Pamiętaj, że możesz samodzielnie zmienić ustawienia przeglądarki tak, aby zablokować zapisywanie plików cookies. Więcej informacji znajdziesz w Polityce Prywatności i Regulaminie.