How to set up a company in Poland?
Congratulations!

So you want to start a business in Poland. It is a country with a thriving economy and a lot of potential. For conducting most types of business activities in Poland, you will need to set up a company or become a sole trader.

Welcome to our guide on how to open a business in Poland. Here you will receive basic information and guidance on the formal process of registering your business venture.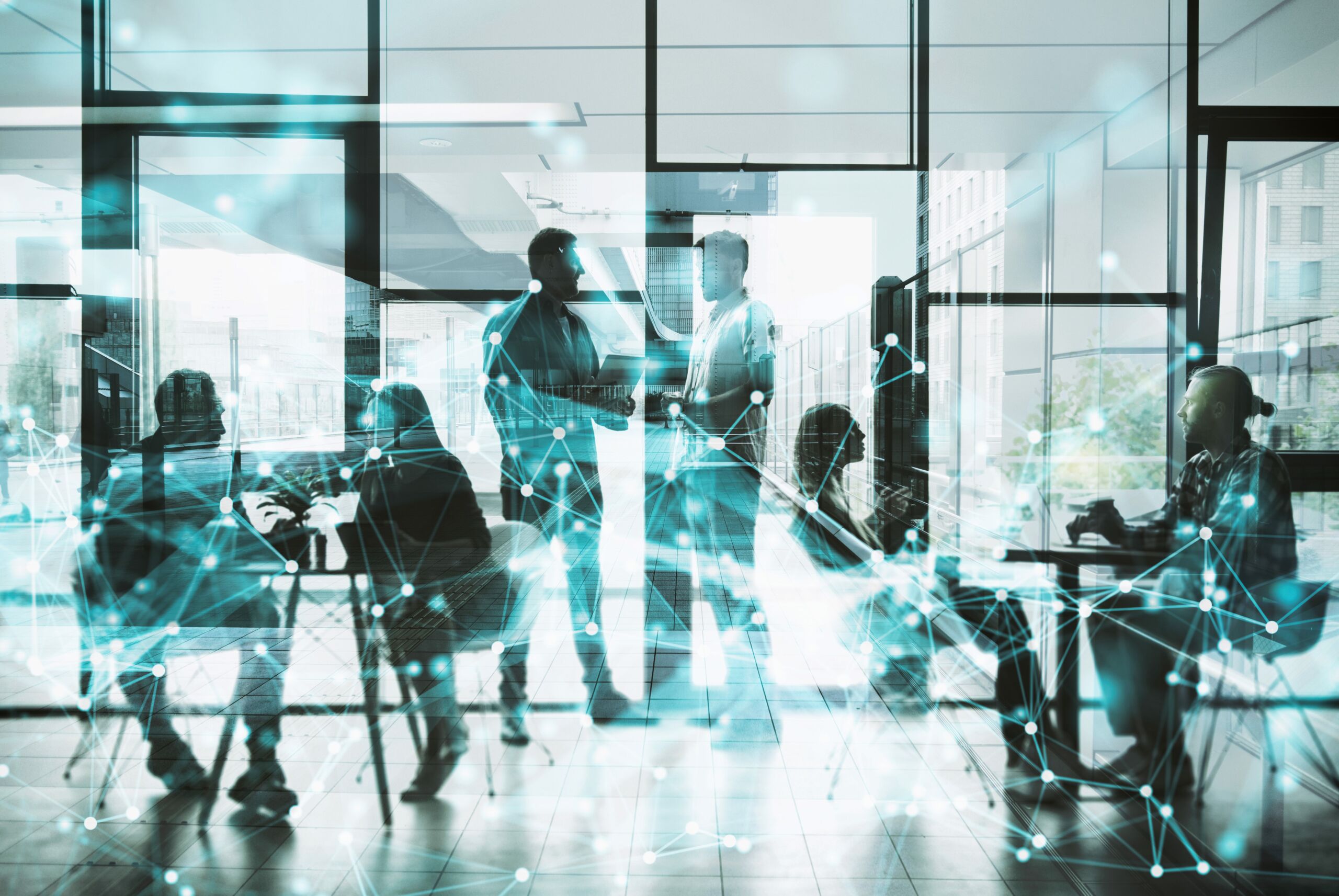 Click below to download the full guide on how to open a business in Poland.
Legal environment
There are two main legislative levels that are important if you want to trade in Poland. First, there are Polish internal laws on who can become an entrepreneur and on what terms. There is also some international law regulating the matter, e.g. as Poland is a member of the European Union.
The most important consequence of the above is that all EU nationals and European Economic Area citizens are to be treated as if they were Polish nationals in matters concerning business and employment. The EU law on free movement states that all EU citizens are entitled to work in another EU country without needing a work permit, as well as enjoy equal treatment with nationals in access to employment, working conditions and all other social and tax advantages. Many EU regulations, like those concerning VAT or customs, apply to conducting business in Poland as well.
Do I have to register a company to trade in Poland?
Most service providers, including entrepreneurs from the EU, may temporarily provide services on a cross-border basis in another EU country. This type of activity is a good choice for you if your services in Poland are only temporary and occasional.
Cross-border services may also be provided by a private individual, as long as they are citizens of one of the EU Member States. So in this case setting up a company will not be necessary.
However, you might need a permit, concession or entry in a specific register. This might be required by Polish law for some types of commercial activities. The list can be found at the following address:
Some services cannot be provided as a cross-border activity. The list includes transportation, notarial services, pharmacy, medicine and gambling services.
First step: check if you can open your business in Poland
So, you have checked whether you need to open a company to trade in Poland and the answer is yes. How do you do it then? The most common answer would be to set up a limited liability company (pl. "spółka z ograniczoną odpowiedzialnością – spółka z.o.o., LLC). This is one of the most universal and versatile legal forms of the business in Poland. In this part of our guide we will briefly present, how to set up your own limited liability company (LLC) in Poland and make your first business steps. Information on other legal forms are provided in the full version of the guide.
Second step: how to start?
Registering your business will require several important decisions which will determine, among other things, what taxes you will pay and what your obligations as an entrepreneur will be. This piece will focus on the LLC. For starters, you need to choose a partner. It is also possible that you will be the only partner setting the limited liability company. Basically, a partner should fall into one of the following groups:
natural person with full capacity for legal acts;
person with limited capacity for legal acts – authorized by their legal representative;
legal person.
Third step: company incorporation – general information
At this point, you will need to define the type of the activity which will be conducted by your company. The LLC offers you wide opportunities. The basic condition is that your object fully complies with the Polish law.
Bear in mind that some type of activities like personal and property protection services, broadcasting or medical activities may require additional permits or licenses.
Fourth step: setting up your LLC
So you have already chosen the partners and defined the object of your activity. Now you are ready to proceed and set your LLC. There are two ways of setting your company:
traditional – in the form of a notarial deed;
electronic – through the Internet website.
If you decide to go the traditional way, you will need to find a notary office and bear the costs of the notarial services. The electronic way is cheaper, however it requires you to have a qualified signature.
1. If you choose the first option, you will need to book a meeting with a notary office. Remember that during the procedure all the partners of your LLC need to be present. To set up your company you will need:
IDs of the partners being natural persons (if you or your partners do not have a Polish ID, you will need to present a passport or a residency card);
information regarding your partners – names, surnames, personal and legal status information, insurance information;
company name;
duration of the LLC;
LLC's office information;
object of the LLC's activity;
information on the invested share capital;
a clause regarding whether a company member can hold more than one share;
the initial value and number of shares for each member.
The above information will help to prepare the articles of association (AoA).
The LLC must have its own share capital which cannot be lower than PLN 5 000.
2. If for some reason setting the LLC in the traditional way is not possible or, if simply, you prefer to do it online, there is such possibility. First of all, you will need to visit the website of the Portal of Court Registers (https://prs.ms.gov.pl/). Currently, the website doesn't offer the English translation, so you will have to rely on the Polish version.
Once you registered an account (you will need the ePUAP Trusted Profile) and set the profile of your LLC, you are ready to proceed. In the next steps, you will need to provide the elements of the LLC contract – you will find some helpful information and additional explanations during the registration procedure.
In the next step, you will be automatically redirected to a website with the court documents which need to be signed using the ePUAP account.
After the verification of your application is completed, you will be redirected to the bank payment system, where you will be able to pay the court inscription fees and the estimated tax.
In both cases, you will need to register your company in the National Court Register (NCR) and in the Court and Commercial Monitor (CCM). The inscription will allow the issuance of the NIP (tax identification number) and REGON (statistical number of company) numbers. The inscription to the NCR can be done via the Portal of Court Registers (https://prs.ms.gov.pl/). It will require an ePUAP account. The application for entry of a limited liability company in the National Court Register should be examined by the registry court within 7 days from the date of its receipt by the court. If the contract was concluded using the contract template provided in the S24 ICT system, your application should be considered by the registry court within 1 day from the date of its receipt.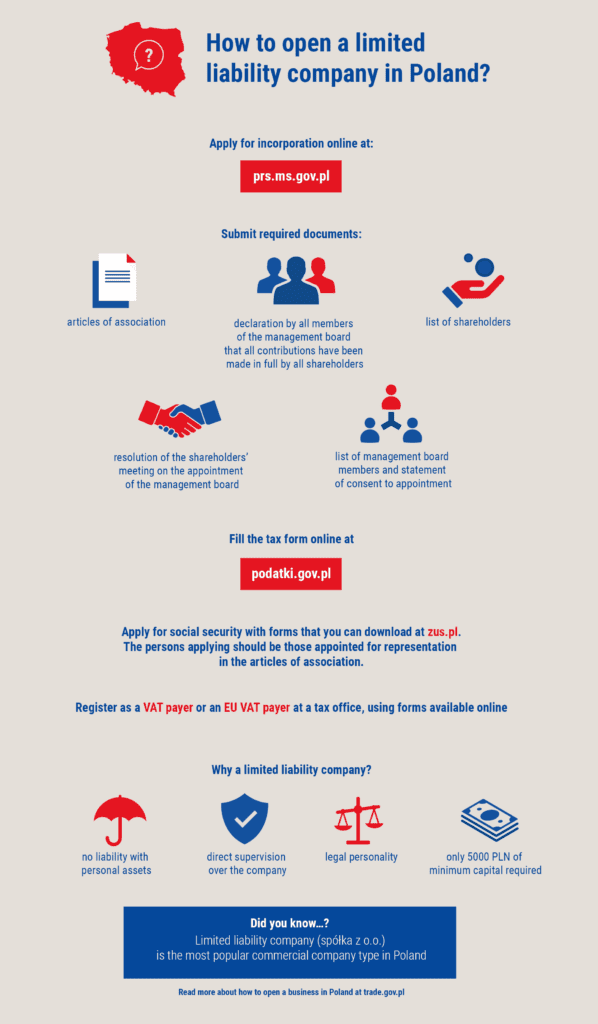 How much does it cost to register an LLC in a traditional way?
To prepare a contract setting the LLC you will need to cover the notarial and the court costs.
Notarial tariffs are dependent on the share capital of your LLC – the higher the share capital, the higher the tariff. For the share capital of the PLN 5 000 the tariff amounts to PLN 160. If the capital is PLN 2 000 000, the cost will be around PLN 6 800.
The tariff for the inscription to the NCR is set to PLN 500 per inscription. The tariff for the inscription to the CCM is an additional cost of PLN 100.
It will also be necessary to pay the tax on civil law transactions. The amount of the tax is equal to the share capital (minus the notarial tariffs and the inscriptions fees to the NCR and CCM) multiplied by 0,5%. For example, if the share capital is PLN 5 000, the tax will be around PLN 20. If the capital is PLN 100 000, the tax will be around PLN 500.
Be aware that at all stages you may have to fill the documents in Polish.
Other useful solutions, common for all companies
Open a business bank account
You need to open a separate bank account for company settlements, unless you are a 'micro entrepreneur' (this is a category defined by law in the Enterpreneurs Act (the full act – in Polish – can be found here). A microentrepreneur has to meet jointly the two following conditions in at least one of the last two fiscal years:
employed on average less than 10 employees per year
achieved an annual net turnover (coming from sales of goods, products, and services or from financial operations) not exceeding the PLN equivalent of EUR 2 million OR their total assets at the end of one of these years did not exceed the PLN equivalent of EUR 2 million;
Even in this case it might be useful to have a separate business account.
You are advised to compare offers from banks in Poland. You can choose from many brands operating worldwide and decide which offer best suits you. Consider the charges, check whether the bank offers any further guidance for companies and localisation of the branches, in case you will need to do something in person. Please note that mobile banking is very popular in Poland, and most of the services are available from your computer or smartphone.
It is useful to note that many banks (not only in Poland, but worldwide) sometimes require legalisation of documents if they originate from a different country than the one in which the company operates. It may be the case with your passport (which most surely will be required by a bank for review), if it is not issued by a Polish authority.
The legalisation is a process of making a document issued in one country usable in another one. You can do it yourself – in most countries it is done through a ministry of foreign affairs or its counterpart – or use the services of a specialised legalisation agency.
Create a Trusted Profile or an electronic signature
Before you register a company, it is helpful to create a Trusted Profile. It is an electronic tool that can be used to confirm your identity. You can create the Profile free of charge under this link (site available in Polish) or using services of your bank*.
Thanks to the Profile, you will be able to register your company online. You will also be able to deal with many official matters electronically, without the need to go anywhere in person.
You can also create an electronic signature. It has the same functions as Trusted Profile, but it is not free of charge. You can buy a qualified signature from one of the EU suppliers. A list of Polish providers can be found here.
*Please note that not all banks offer this service. You can use this service if you have an account with one of the providers listed at the following this website.

Choose an appropriate PKD code
When registering a company, you have to report what kind of activity you will run. Every type of activity has its PKD code, which stands for 'Polish Classification of Activities'. You can find the right adequate code hereThe type of activity will determine some of the obligations (how you will be taxed, whether you have to use a cash register, etc.).
Where to seek further guidance?
If you still have doubts about the procedures or need some further advice, there are several places that will offer reliable guidance.
If you want to register a company but wonder whether you will be able to fill in the application form correctly, you can get free help from the Ministry of Economic Development and Technology. You can call + 48 801 055 088 or +48 22 765 67 32 or Help Centre at biznes.gov.pl.
You can also contact trade organisations, like the Polish Investment & Trade Agency or local chambers of commerce. For instance, if you are an investor from the United States, you can contact the American Chamber of Commerce in Warsaw. If you are planning to open a company at a particular site, for example a fishing company by the seaside, check with the local authorities. They frequently have a department dedicated to communication with potential investors and may inform you about local incentives for business.
You can also use services of a specialised agency or consulting firm. There are many companies that offer a range of services, from notarial to tax advisory. There are also agencies that offer assistance with the incorporation process and complete management of accounting and HR matters.
Click here to watch a video on how to open a business in Poland.