Institution
Association of Distributors and Producers of Automotive Parts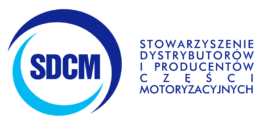 Association of Distributors and Producers of Automotive Parts
ul. Za Dębami 3, Warszawa 05-075
SDCM-Association of Distributors and Producers of Automotive Parts – is the Polish voice of the automotive industry. It is the 164 largest players in the automotive parts industry and market. SDCM represents the interests of industry, trade and services worth nearly PLN 140 billion annually, creating over 330,000 jobs. SDCM is one of the largest European organizations such as: CLEPA (European Association of Automotive Parts Manufacturers) and FIGIEFA (International Federation of Independent Automotive Distributors). The association associates and represents international companies operating in the automotive industry, investing hundreds of millions of zlotys in Poland, such as Bosch, Brembo, Delphi, Valeo, Federal Mogul / Tenneco, Mahle, ZF TRW, but also many domestic manufacturers such as: Wuzetem, Asmet or Tomex. SDCM members are also the largest distributors of spare parts: Inter Cars, Moto-Profil, Auto Partner GroupAuto Polska and many others, as well as garage networks associating a total of over 5,000 garages.
Areas of export support
SDCM has unique expert knowledge in the field of the automotive industry in Poland. This knowledge is constantly updated, which results from the ongoing service of the member companies. In the above scope, SDCM also engages in cooperation with domestic and foreign entities of the public and private sector that implement or support foreign trade, acting as an intermediary between them and their member companies. This applies to such projects as participation in international fairs, promotional activities abroad, development of information and promotional materials, organization of meetings and conferences, or support in gaining access to international foreign trade platforms. As part of European industry organizations, SDCM is involved in projects related to the internationalization of business, such as electronic industry databases enabling precise matching of business partners, which – taking into account the number and variety of automotive parts – is a big challenge. Finally, as far as possible, the organization acts as an intermediary in contacts between member companies and potential foreign contractors. As a representative of the Polish automotive industry, we often receive inquiries from entities from all over the world regarding specific business needs.