Polish International Freight Forwarders Association
Updated: 25.05.2022
Published: 01.04.2022
Institution
Contact: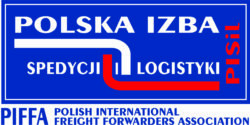 Polish International Freight Forwarders Association
ul. Świętojańska 3/2; 81-368 Gdynia
Polish Chamber of Forwarding and Logistics (PISiL) associates entrepreneurs conducting economic activity consisting in rendering international and domestic forwarding, logistic and transport services, customs agencies and other services related to goods turnover.
PISiL is a national member of the International Federation of Freight Forwarders Associations "FIATA" in Zurich, a member of the European Organisation for Forwarding and Logistics in Brussels "CLECAT", a member of the National Chamber of Commerce, and an associate member of the National Chamber of Maritime Economy.
Areas of export support
The Chamber protects the rights and represents the interests of its members before the authorities and the state administration, bodies of local self-government and international organizations of forwarders, shippers, carriers and others whose activity concerns the sphere of professional interests of the members;
Provides access to national and international information, especially in the context of Polish membership in the European Union;
Organizes training, symposia, conferences, congresses on topics of interest to members of the Chamber.