Polish Chamber of Organic Food
Updated: 24.05.2022
Published: 01.04.2022
Institution
Contacts: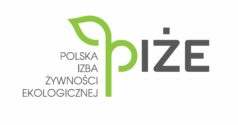 Polish Chamber of Organic Food
ul. Kickiego 1/lokal U4; 04-373 Warszawa
Polish Chamber of Organic Food is a sector organization which associates farmers, producers, processors and sellers of certified organic food. Our mission is to promote a sustainable lifestyle and broadly educate the public about the health benefits of organic products and the way of growing, breeding and processing organic food. We want to promote knowledge about the certification of organic products with the "euro-leaf" symbol and the benefits that the eco-certificate brings to consumers, distinguishing organic products from conventional ones. Our activity supports and promotes Polish agriculture and the conversion of farms from conventional to organic production.
As a representative of the certified organic food environment, we are a partner for the Ministry of Agriculture and Rural Development and other ministries. We provide opinions on legislative projects concerning organic food and lobby for the widest possible introduction of organic products to schools, kindergartens and other public institutions. Through joint educational and promotional undertakings we want to promote fashion for organic products and develop Polish market of organic food and sustainable agriculture.
Areas of export support
The Polish Chamber of Organic Food supports its members, among others, through:
promoting the export of Polish organic food
cooperation and exchange of experience with national and foreign organizations, including chambers of commerce and industry in order to implement statutory tasks
giving an opinion on the assumptions of regional and national economic policy, especially in the areas affecting the development of organic products
acquiring funds from European and national funds to support environmental education, promotion of organic food and healthy lifestyle