World Expo International Sp. z o.o.
Updated: 29.09.2023
Profile views: 51
Industries

Business services
Company description
The basic profile of the Company`s operation is the organization of Polish collective and individual participation`s at international trade fairs, exhibitions and congresses. The Company represents in Poland, operating as an exclusive representative of trade fairs, a dozen or so international and most recognizable trade fair brands in the following sectors and among others: medical, furniture, mining, construction, energy, cosmetics, F&B, IT and new technologies.
Company offers
World Expo International Ltd. specializes in delivering comprehensive services for companies and public institutions at international trade fairs and exhibitions.
Company commodity
Contact Information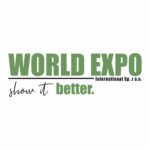 World Expo International Sp. z o.o.