MARSUN SOLAR ENERGY I SPÓŁKA Z OGRANICZONĄ ODPOWIEDZIALNOŚCIĄ
Industries

Business services, IT and telecommunication equipment, Biotechnology and pharmaceutics, Other goods

Already exports to:

Western Europe, Visegrad Group, Eastern Europe, Baltic states, Nordic states, Southeast Europe and the Balkans
Company description
MARSUN SOLAR ENERGY I - official distributor of DEYE inverters with service desk and stock in Poland.
First contact for companies and private people who are looking for sells department and service desk for DEYE systems, not only in Poland but in all Europe.
Company offers
DEYE inverters:
- string(single and three phase)
- hybrid(single and three phase)
- microinverters(300-2000W)

Storage systems copatible with DEYE hybrid inverters.
Photos
Contact Information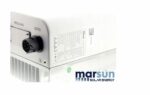 MARSUN SOLAR ENERGY I SPÓŁKA Z OGRANICZONĄ ODPOWIEDZIALNOŚCIĄ