BIURO ZAKŁADANIA I REJESTRACJI SPÓŁEK W KRAKOWIE SPÓŁKA Z OGRANICZONĄ ODPOWIEDZIALNOŚCIĄ
Industries

Services, Business services

Already exports to:

Western Europe, Visegrad Group, Eastern Europe, Baltic states, Nordic states, Southeast Europe and the Balkans
Company description
The company establishment and registration office in Krakow, a limited liability company, contributes to the assistance in establishing and registering companies. Our help is comprehensive, because we handle all matters from A Z. We set up online and stationary companies in the case of a company in Krakow. We prepare all the documents necessary to register the company. In addition, we also offer the purchase of new limited liability companies and simple company results. Contact us.
Company offers
We offer the establishment and registration of such legal entities as:
limited liability company,
simple joint stock company,
general partnership,
limited partnership,
partnership Limited by shares,
joint-stock company,
registry associates,
foundation.
We support both the s-24 system and the Court Registers Portal. The duration of the service is usually not longer than 24 hours. Our advisers will be happy to provide you with detailed information on the procedure of establishing a company.
Photos
Contact Information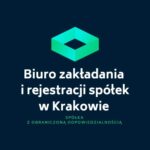 BIURO ZAKŁADANIA I REJESTRACJI SPÓŁEK W KRAKOWIE SPÓŁKA Z OGRANICZONĄ ODPOWIEDZIALNOŚCIĄ