Polish-Mongolian Business Forum
Updated: 21.04.2023
Published: 21.04.2023
Event
Registration completed
13.04.2023 – 21.04.2023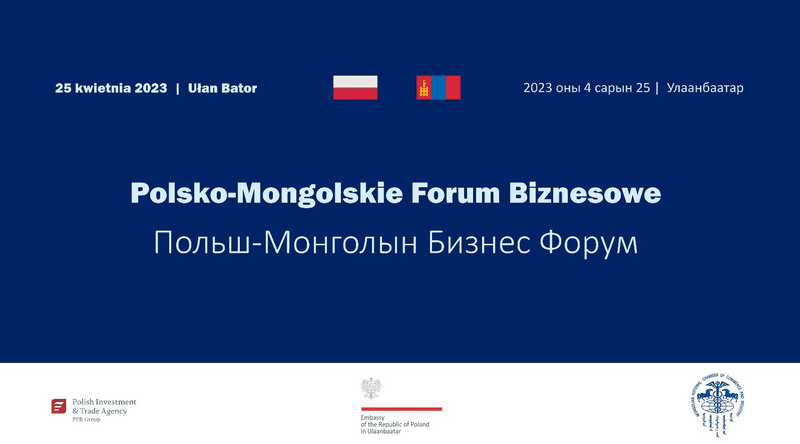 The Polish Investment and Trade Agency together with the Ministry of Foreign Affairs and the Embassy of the Republic of Poland in Ulaanbaatar are pleased to invite you to participate in the Polish-Mongolian Business Forum, which will take place on April 25, 2023 in Ulaanbaatar, the capital of Mongolia.
The event will be an excellent opportunity to establish relationship between entrepreneurs from Poland and Mongolia from the construction, food and fintech industries. It will be attended by representatives of the State Authorities of both countries, and the Polish delegation will be led by the President of the Republic of Poland, Andrzej Duda.

The agenda is available at the link.

Participation in the event is free of charge.

We invite you to fill in the registration form:

If you have additional questions, please contact us by e-mail: mongolia@paih.gov.pl.
No search results. Please try again.
Portal Promocji Eksportu używa plików cookies, aby ułatwić użytkownikom korzystanie z serwisu oraz do celów statystycznych. Jeśli nie blokujesz tych plików, to zgadzasz się na ich użycie oraz zapisanie w pamięci Twojego komputera lub innego urządzenia. Pamiętaj, że możesz samodzielnie zmienić ustawienia przeglądarki tak, aby zablokować zapisywanie plików cookies. Więcej informacji znajdziesz w Polityce Prywatności i Regulaminie.