GO GREEN – Hydrogen solutions from Poland and Belgium
Updated: 16.01.2023
Published: 01.06.2022
Event
Event date
09.06 (09:30) – 09.06
The Polish Investment and Trade Agency (PAIH) invites to the Polish -Belgian conference on hydrogen technologies entitled "Go Green – Hydrogen solutions from Poland and Belgium" which will take place on June 9th in Brussels.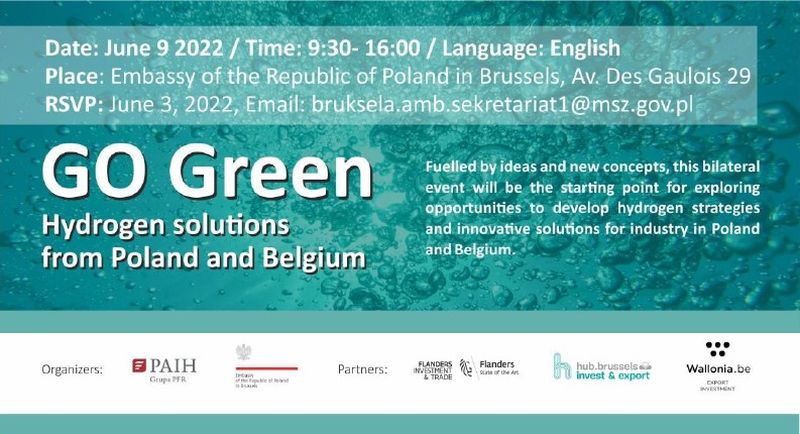 The organizers of the event are the PAIH Foreign Trade Office in Amsterdam and the Embassy of the Republic of Poland in Brussels with the partner participation of the Belgian trade and investment support agencies Flanders Investment & Trade, Wallonia Export-Investment Agency and the Brussels Business Support Agency (hub.brussels).

The participants in the conference will be:
representative of the Ministry of Energy in Brussels – An Stroobandt, Deputy Head of Minister Van Der Straeten Cabinet, who will present the federal strategy on hydrogen
Szymon Byliński – Director of the Department of Electromobility and Hydrogen Economy, from the Ministry of Climate and Environment, who will present Poland's hydrogen strategy
More information:
Portal Promocji Eksportu używa plików cookies, aby ułatwić użytkownikom korzystanie z serwisu oraz do celów statystycznych. Jeśli nie blokujesz tych plików, to zgadzasz się na ich użycie oraz zapisanie w pamięci Twojego komputera lub innego urządzenia. Pamiętaj, że możesz samodzielnie zmienić ustawienia przeglądarki tak, aby zablokować zapisywanie plików cookies. Więcej informacji znajdziesz w Polityce Prywatności i Regulaminie.