Event
"Expo Apples" in the Embassy of the Republic of Poland
23.08.2023
Registration completed
24.07.2023 – 06.09.2023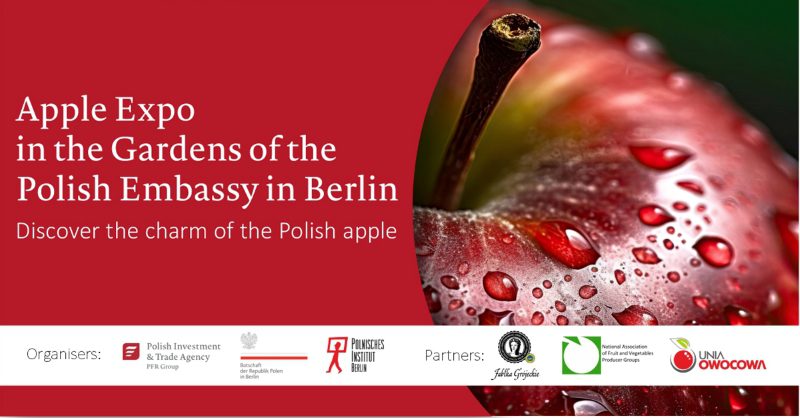 The Polish Investment and Trade Agency together with the Embassy of the Republic of Poland in Berlin would like to invite exporters of apples and products based on this fruit who are interested in the German market, to participate in the "Expo Apples" in the gardens of the Embassy. The event will take place on 15th September in Berlin.
Poland is a major player when it comes to the production of apples – we are the largest producer in the EU and the 3rd in the world. Apples are the main fruit exported from Poland – they account for over 75% of the export volume of all fruits and at the same time over 1% of the value of Polish agri-food exports. We are also a producer of high quality products based on apples: juices, ciders, apple chips, as well as cosmetics or accessories made of ecological material produced from residues from apple processing.
Companies interested in participating are asked to register via the application form by the 6th September.
Participation in the event is free of charge. The organizers guarantee B2B and B2C meetings, marketing space and substantive and linguistic support. It is up to the participants to guarantee transport, accommodation, insurance, etc.
For more information, please contact Łukasz Chrabanski, Head of the PAIH's Office in Germany at: lukasz.chrabanski@paih.gov.pl.
No search results. Please try again.
The Export Promotion Portal uses cookies to make it easier for users to use the website and for statistical purposes. If you do not block these files, you agree to their use and saving in the memory of your computer or other device. Remember that you can change your browser settings to block the storage of cookies. More information can be found in Privacy Policy and Terms and conditions.