Article
The Furniture Sector –  a PAIH report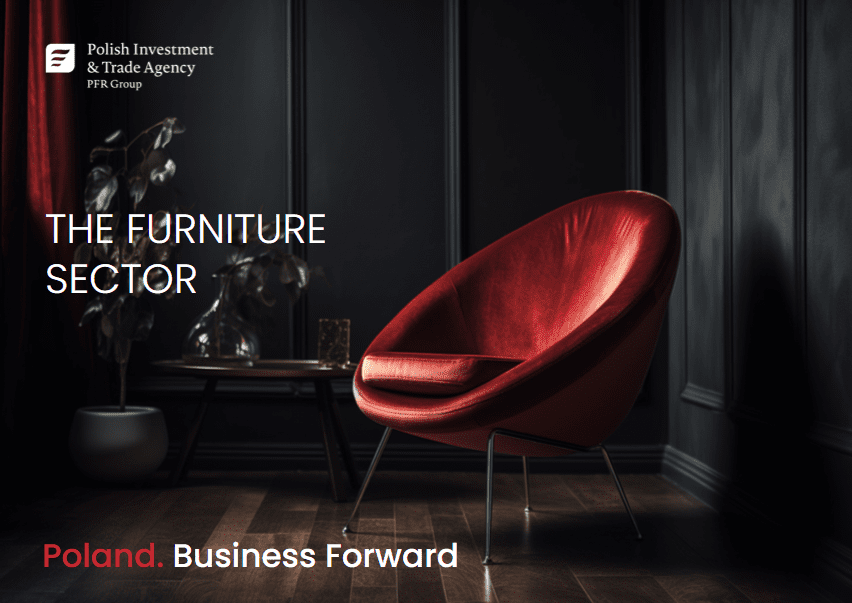 According to the Polish Investment and Trade Agency's quarterly report "The Furniture Sector" published at the end of June, Poland is a leading exporter of furniture. In this respect, we rank second in the world and first in Europe.
The Polish Investment and Trade Agency's (PAIH) quarterly industry reports issued in English are an important source of knowledge on the situation of 15 sectors of the Polish economy. According to the report , the export of Polish furniture increased by 7% compared to data from 2021.
PAIH's experts indicate that there are over 32,000 furniture manufacturers operating in Poland. The sector employs about 200,000 people. The value of Polish exports of these goods has almost doubled in a decade, reaching USD 15.35 billion in 2022 (USD 8.80 billion in 2012).
According to the information contained in the report, production costs in Poland are more favourable than in Western European countries. At the same time, thanks to the single European market, Polish producers have access to demanding and large market, such as Germany or France – which create the potential to generate high profits.
Despite the Covid-19 pandemic, Poland remains one of the strongest players on the global furniture market. In 2022, it recorded record sales of over PLN 68 billion.
The full text of the report is available in the Industries tab.
Everything
News (19)
Events (2)
Get Support (1)
Polish companies (534)
Sisound is a Polish brand that was created out of love and passion for music and designing audio systems. We started our business in 2015, but the roots of the company reach back to 2008. Our main goal is to strive for the best possible sound quality – "For Pure Sound" as states the motto. Company produces complete tube based Stereo and Surround systems for demanding customers. All products are designed, engineered and manufactured in Poland.

Show more

Show less

Nowe S.A. is independent family-owned company situated in Poland looking to extend sales of our products on foregin markets. We're a manufacturer of all type Home Fragrances, Decorations Air Fresheners, Scented Pearls, candles and Sachets. We earn our position of leader in the Polish market as pioneer in home air fresheners, fragrances, beautiful and aromatic products selling them to small business or big retailers and drugstores like Rossmann, DM or Jeronimo Martins .

Show more

Show less

EURO-LOCKS SPÓŁKA Z OGRANICZONĄ ODPOWIEDZIALNOŚCIĄ

As a specialist manufacturer of locking systems, Euro-Locks supplies a wide variety of locks for industrial and OEM applications. Our product range is extensive and includes simple mechanical locks, the latest electronic locks, and many bespoke solutions, enabling to meet diverse locking requirements. Euro-Locks in Poland was opened in 1997 and is a leading manufacturer of locking systems supplying customers across Poland, Ukraine, Baltic, Balkan, Central Asian states.

Show more

Show less

BEKETO SPÓŁKA Z OGRANICZONĄ ODPOWIEDZIALNOŚCIĄ

BeKeto™ is the first brand in the UK and Europe dedicated entirely to the #ketogenic and #low-carb diet. Our mission is to get as many people as possible into a state of ketosis, and our products will make you the best version of yourself.

Show more

Show less
The Export Promotion Portal uses cookies to make it easier for users to use the website and for statistical purposes. If you do not block these files, you agree to their use and saving in the memory of your computer or other device. Remember that you can change your browser settings to block the storage of cookies. More information can be found in Privacy Policy and Terms and conditions.